Good Morning Leaders.
Thank you for sending in your 'hello' videos. If you haven't and would like to please try and send them in by the end of this week.
English
Through the Eyes of Character
First, think of a character – it's easier if you base this on someone you know.
What are they called?
What do they look like?
What sort of a person are they (miserable/friendly/kind/aggressive)?
What do they say?
What do they do?
How do they treat other people?
How do other people treat them?
Now compose a short piece of descriptive writing based on seeing a mysterious door through the eyes of your character. Use a simple opener to drop the reader straight into the action:
Samantha stared. … Ali hesitated. …
Have a look at the paragraph and table to help you.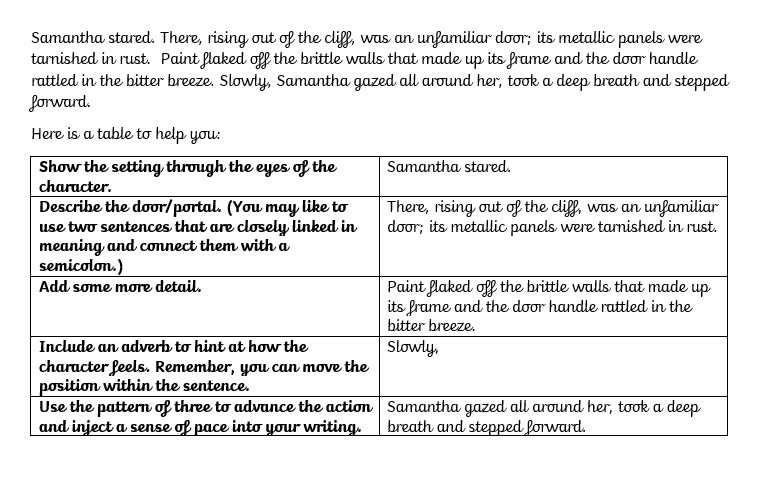 Maths
Today we are going to look at division. See if you can beat Bartley Bluebird and Wolfie Wolf (football mascots) to the answers before they appear.
https://www.bbc.co.uk/teach/supermovers/ks2-maths-the-times-tables-mash-up-with-bartley-bluebird-wolfie-wolf/zk4hd6f
Then have a go at the times tables questions – time yourself and see how quickly you can complete the answers.
Story Map
Just before school closed, we were writing a story. For this story you could use whatever method you wanted to create a story map.
I'd like you to make a story map for your magical door story. If you liked the way you mapped last time you could use it again. If you would like to try a different style of mapping that's great too. (Comic Strip, storyboard, timeline, story path, bullet points etc.)