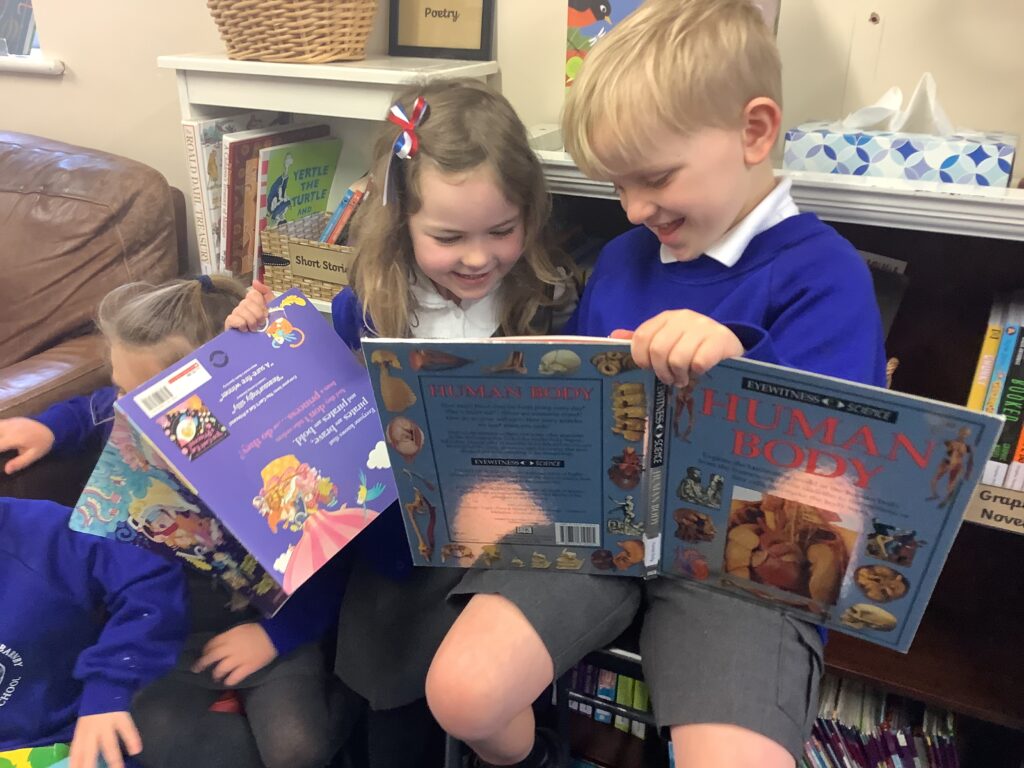 We are committed to developing a love for reading and instilling a culture of reading for pleasure across our entire school community. We work hard to promote reading around school and enjoying sharing class texts together. Our staff also enjoy reading various children's books and we spend time discussing and reviewing these texts together.
The curriculum leader for Reading is: Mrs Hann
Reading at Sleights involves:
| | | | | | | |
| --- | --- | --- | --- | --- | --- | --- |
| Whole Class Guided Reading sessions, designed to stretch and challenge all children to meet at least age related expectations. | | Careful analysis and study of a range of texts using reciprocal reading strategies (Predict, Clarify, Question, Summarise) | | The freedom and opportunity to select and enjoy reading materials from a wide range of well stocked book collections. | | Highly effective and high quality phonics teaching, following the Little Wandle programme, equipping all children with the tools and strategies required to read and write. |
Statement of Reading Intent
The children at Sleights will be provided with a reading curriculum offer designed to:
Establish an exciting, inspiring and engaging reading culture across school.
Instil a love of reading and reading for pleasure across the school community.
Reading will be 'right from the start', through high quality phonics teaching and provision.
Equip children with a range of techniques to support comprehension and questioning of key information.
Support children to read regularly.
Allow children to access and read a significant range of high quality texts, including fiction and non-fiction, in a well organised and carefully planned system.
Engage all children to read exciting and suitable texts by ensuring a range of texts are on offer to all children, including high quality phonetically decodable books and low level, high interest examples.
Inspire and scaffold all staff to become reading experts.
Provide children with language and vocabulary to support them to articulate their thoughts, ideas and opinions about texts they have read.
Statement of Reading Implementation
We are proud to provide an exciting and varied reading diet for the children of Sleights to ensure that the statement of intent for the curriculum is positively and successfully implemented across school. The implementation of reading at Sleights includes:
Well planned and highly focused whole year group guided reading sessions.
Individual reading sessions (one to one)
Daily phonics sessions across the Early Years Foundation Stage and into Key Stage One. Support and individual sessions are delivered to those children elsewhere in school who may continue to require additional support.
Supporting all stakeholders to read regularly, through monitoring of our school reading challenge.
Tasks designed to promote reading for pleasure.
Ongoing, high quality and targeted staff training and development.
Children at Sleights regularly visit the mobile library when it visits the village.
Our approach to reading:
As a full school staff, we feel strongly that everyone is a free reader, regardless of age or stage. We believe that regardless of which coloured book you are working within the level of, you are also entitled to choose a text that is perhaps more, or less, of a challenge that the stage you are working at.
Our school library contains a wide range of fiction and non-fiction texts for all children to enjoy. Books are organised using progression from 'Little Wandle'.
Our approach to Early Reading:
At Sleights, Little Wandle: Letters and Sounds Revised is used to underpin the teaching of Phonics. In our Pre-School (Explorers class) children explore the foundations for phonics. With wordless books, children enjoy retelling stories, answering questions and asking their own. From the start of Reception (Pioneers class) children begin to learn the reading code, linking letters and sounds together. Each week, a new set of letters and sounds are introduced. These sets are grouped into half termly blocks, which continue to be taught until the end of Year 1.
Statement of Reading Impact:
Assessment for learning is fundamental to raising standards and enabling children to reach their potential. Assessment in reading takes place daily using a range of strategies such as questioning, marking and feedback, verbal discussions with children and response time.
In addition, children complete regular 'low stakes' assessments, to provide an ongoing overview of the impact of reading teaching. These assessments are a combination of questions created by teachers, linked to children's books and focus skills, or an unrelated text, unfamiliar to the children, which allows them to apply their knowledge and skills.
Summative assessment activities are carried out at Sleights using the NTS test papers across Year 1 – 6. These are completed on a termly basis, with scaled score information being produced. This data is compared with children's targets (set out by Fischer Family Trust 20). Teachers use assessment information to inform their future planning.
Key resources
Click the links below to open key resources related to Reading at Sleights. All documents are PDF format, but some links may also take you to external website pages.