The teaching of Physical Education (PE) at Sleights is underpinned by the ongoing development and acquisition of knowledge and skills. This development and acquisition occurs as a result of our own school's curriculum sequence and progression, which maps out the core knowledge and skills children need to be highly effective sports people.

Our curriculum leader for PE is Mrs Taylor.

Our full Physical Education policy can be found here: PE Policy
Physical Education at Sleights involves:
| | | | | | | |
| --- | --- | --- | --- | --- | --- | --- |
| Dedicated curriculum time to engage in range of purposeful and practical experiences relating to varied sporting disciplines. | | Sequenced learning experiences, which build on prior knowledge and understanding. | | Developing a secure understanding of declarative (what) and procedural (how) sporting knowledge. | | Sessions and programmes led by specialist sporting teachers, enabling higher levels of competency and understanding. |
Statement of Physical Education Intent:
The children at Sleights will be provided with a Physical Education curriculum offer designed to:
identify crucial learning, which is placed in context and connected to other knowledge.
gain a secure understanding of sporting disciplines, specialisms and techniques.
build on and develop sporting knowledge and skills in a well sequenced and structured progression across their time at Sleights.
support children's acquisition and progressive understanding of substantive and disciplinary knowledge.
enable children to effectively engage in and understand healthy lifestyles the impact of physical activity in achieving this.
equip children with the competence required to be highly effective in sport.
enable children to understand a range of sporting skills, techniques and vocabulary, which can be used widely across the planned curriculum and beyond.
promote active and healthy lifestyles, physical skills, physical development and knowledge of the body in action.
instil opportunities and enthusiasm for competition.
support children to learn confidence, perseverance, team spirit, positive competitiveness and organisation.
challenge and encourage each individual to achieve personal goals and aspirations.
commit to improving the mental and physical lives of children at Sleights.
Statement of Physical Education Implementation:
Our approach:
Physical Education is implemented at Sleights through:
timetabled, high-quality lessons, which enable children with the time and opportunities to develop their physical education understanding and skills over time.
the use of a progressive long term plan, which is organised so that children can build an increasing knowledge base of physical education techniques, disciplines and skills.
a half termly focus on an sporting discipline, which supports and enables children to develop a secure understanding of physical education.
ongoing opportunities to acquire and apply theoretical knowledge relating to physical education including evaluating the work of others and understanding the process of healthy living.
What will children learn?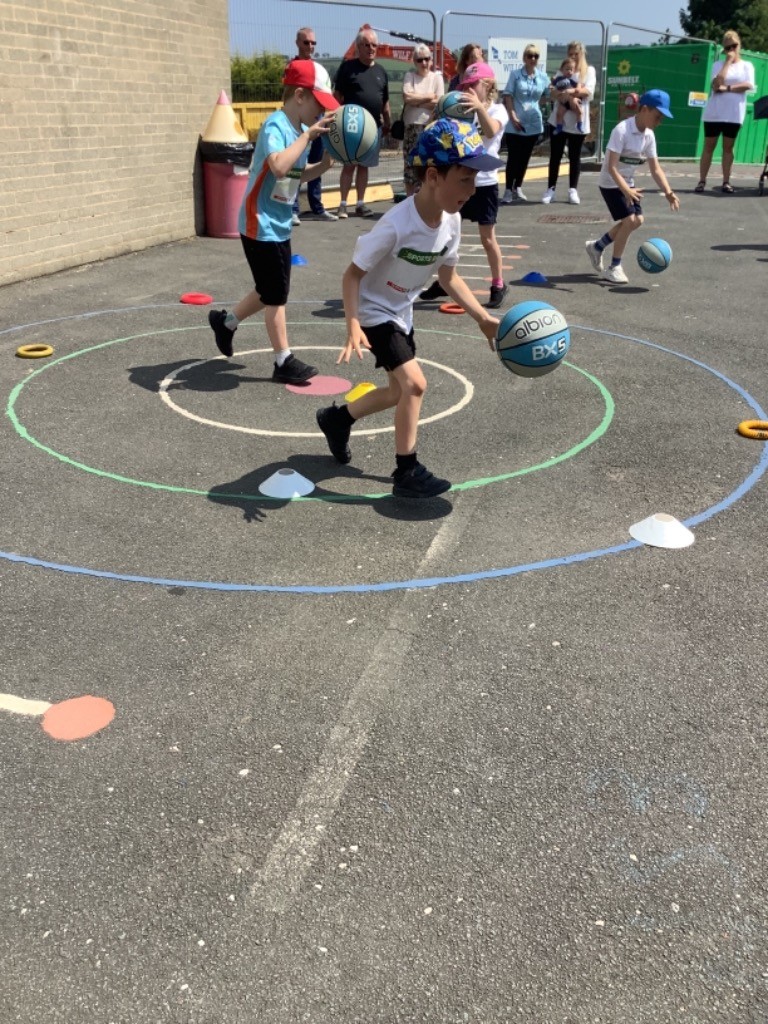 At Sleights, Physical Education activities are planned, so that they build upon the prior learning of the children. While there are opportunities for children of all abilities to develop their skills, knowledge and understanding in each activity area, there is planned progression built into the scheme of work, so that the children are increasingly challenged as they move up through the school.
Physical Education at Sleights meets (at least) the two hour entitlement for sessions per week.
The curriculum planning in Physical Education is carried out in three phases (long-term, medium-term and short-term). The long-term plan maps out the Physical Education activities covered each year. Each class teacher then determines appropriate games and skills to work on during each activity, ensuring to cover the skill progression within their identified key stage.
Class teachers and the designated Physical Education teacher follow the long-term plans to guide each lesson. Teachers' medium and short-term plans then identify the specific learning objectives for each lesson and give details of how the lessons are to be taught. The class teacher and the designated PE teacher keep these individual plans, and the class teacher and subject leader discuss them on an informal basis. These discussions also involve specialist sports leaders, whom are employed by Sleights Church of England Primary School, allowing planning to be consistent and allow for full coverage throughout the year.
Physical Education at Sleights focuses on the acquisition of new knowledge and building on prior learning relating to:
declarative knowledge – which supports children to identify what knowledge/skills are required.
procedural knowledge – which supports children in how to apply knowledge/skills.
As children move between classes and Key Stages, staff carefully identify the level of competency that children have in using and applying skills taught. Before introducing or developing understanding of a skill, or use of a tool, children low stakes assessment opportunities are built into sessions to ensure a secure understanding.
Support is provided to staff and children in relation to Physical Education sessions using materials from the PE Hub.
Long Term Planning:
Planning for children in Key Stage One and Early Years operates on a one year cycle. This means that children revisit and build on skills each year, so that they are competent and proficient in fundamentals, before further development in Key Stage Two. Fundamental multi skills are included within each unit and tailored to meet the demands of specific sporting disciplines.
| | | | |
| --- | --- | --- | --- |
| | Autumn | Spring | Summer |
| Key Stage One | Fundamental Multi Skills and Gymnastics | Basketball and Hockey | Tennis and Athletics |
Across Key Stage Two, planning operates on a Year A and B cycle, so that children have time and opportunity to effectively develop knowledge and skills deeply.
| | | | |
| --- | --- | --- | --- |
| Year A (2022) | Autumn | Spring | Summer |
| Lower Key Stage Two | Dodgeball | Hockey | Rounders and Athletics |
| Upper Key Stage Two | Tag Rugby | Netball | Cricket and Athletics |
| | | | |
| --- | --- | --- | --- |
| Year B (2023) | Autumn | Spring | Summer |
| Lower Key Stage Two | Gymnastics | Cricket | Tennis and Athletics |
| Upper Key Stage Two | Football | Basketball | Gymnastics and Athletics |
Throughout their time at Sleights, children enjoy specialist sessions, including swimming and dance. Children also take part in a range of competitions through the interschool Whitby Partnership.
Swimming:
At Sleights, all children, from Reception onwards, engage in regular swimming sessions. Swimming sessions at Sleights take place on a rota basis, but each year, children complete at least one full term of swimming sessions. These sessions are led by highly trained and qualified specialist staff.
In swimming sessions, children are taught to:
swim competently, confidently and proficiently over a distance of at least 25 metres.
use a range of strokes effectively.
perform safe self-rescue in different water-based situations.
Additional sessions are provided to children during Year 6, where there is a concern that children may not meet these expectations.
Statement of Physical Education Impact:
Teachers assess children's work in PE by making assessments as they observe them working during lessons, using the same assessment framework throughout the school. They record the progress made by children against the learning objectives for the lesson. At the beginning of a unit a baseline assessment is made and, at end of a unit of work teachers make a judgement as to whether the child has met, exceeded or is working towards the expectations according to age and stage of each individual unit. They record the information in their assessment tracker and use the information to plan the future work of each child. These records also enable the curriculum leader to make an annual assessment of progress for each child, as part of the child's annual report to families.
The curriculum leader monitors PE progress with lesson plan scans, lesson observations, CPD for staff and yearly monitoring of skill progression.