Good Morning Leaders
Hello Monday and a new week of learning.
It was nice to see the return of some sunshine over the weekend so I hope you all managed to enjoy some time outdoors with your families. I always think a bit of sunshine makes us feel brighter and ready for the challenges a new week will offer.
Last week, we looked at lots of the words in Rain Before Rainbows and, this week, we are going to concentrate on the illustrations – they can often tell a story all by themselves.
We are also going to be looking at lots of different types of graphs, reminding ourselves how to read them.
A busy week ahead – happy learning everyone.
Rain Before Rainbows – English
Today, I would like you to have a look at the pages of a book'. You may notice that this it not a complete copy of each page but a smaller section of the page that does not show any words or characters.
I have put the pictures into a specific order. Looking at these pictures, what do you think this tells you about the story or the mood that the author is trying to create as the story moves through?
Are there certain pictures that draw you in more than others? Why do you think this is?
Maths – Graphs
Today, I would like you to have a look at a pictogram and line graph and have a go at answering the questions.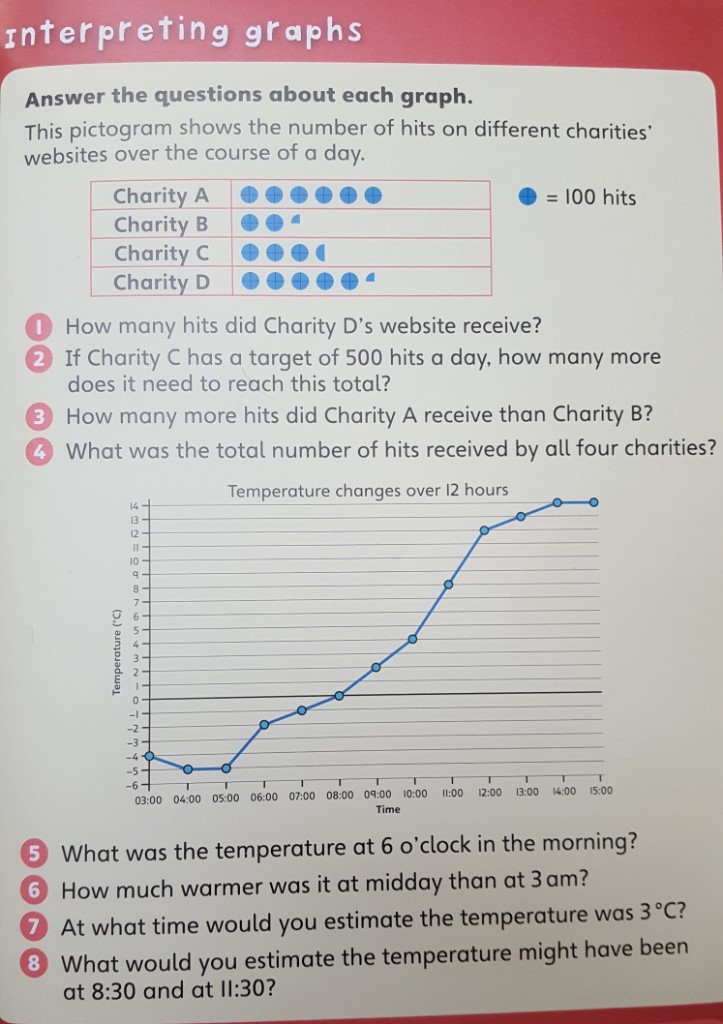 Mood Colours – Art
After looking at your English learning, you will probably have understood the difference that colour can make on how something makes you think or feel. Some of this might be to express a time of day or to express a type of mood.
Today I would like you to choose an object, landscape or picture to re-create multiple times. You may decide to try a range of colour schemes or different amounts of light.
If the weather allows, you might want to do this at different times during the day which should give you a different aspect as the sun rises and sets. (You could even take a photograph to help you see the difference if you would like. ?)