Good morning Discoverers,
As I have managed to tell many of you over the telephone, I will be uploading new work, daily. Every week day you will receive a small activity, which will help you to complete a whole task by Friday. I will give you work for maths, English and in a foundation subject. Feel free to take part in as much of the work as you would like, and remember, you can also complete your own tasks, or work that has previously been given. I will try to give examples to help you, and if you need any further assistance, please get in touch.
In English this week, we will aim to write a story. Our story will be based on a short film called 'Adrift'. Today, I would like you to watch the short film, and decide: If your character had to live on an animal, which animal would it be? Create a map of all the reasons why it would be good to live on this animal. Below I have included the film, for you to watch, and my map. I have chosen for my character to live on a leopard.
https://www.literacyshed.com/adrift.html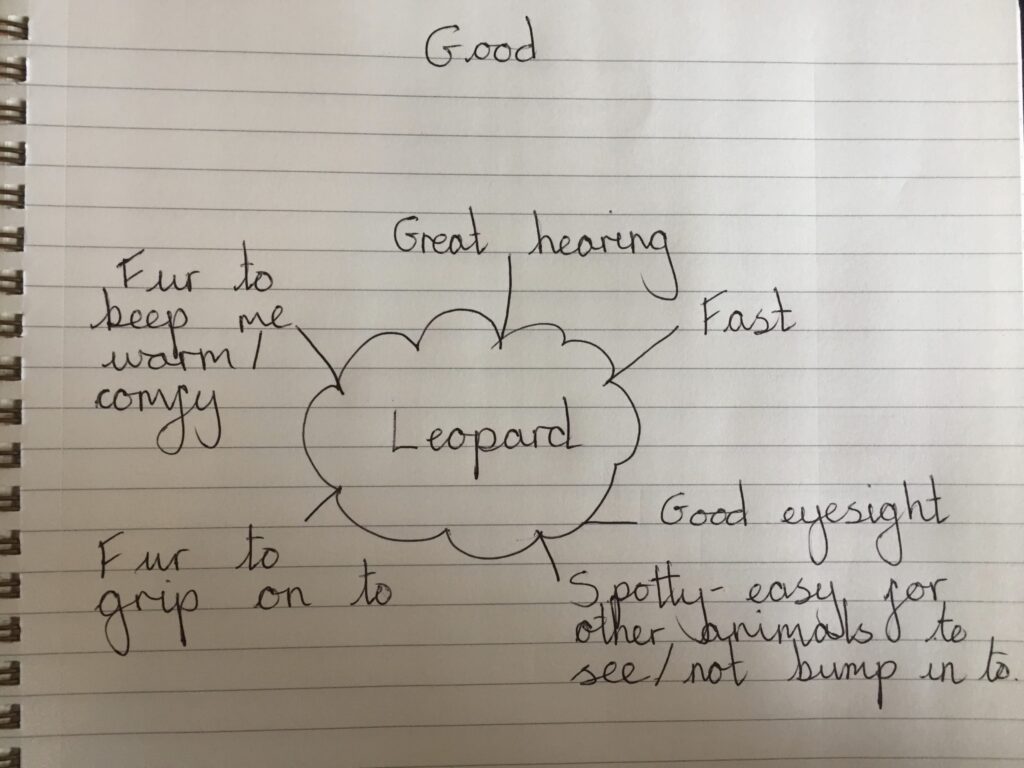 In maths this week, we are going to be completing challenges, to test the memory of everybody who lives in your household. We will do this by showing them a collection of 15 objects, and checking how many they can remember after different amounts of time. So for today, find 15 small objects that nobody will need to use over this week, and put them in a bag. However, you mustn't let anybody in your home see them, as they may remember the items when it comes to the challenge.
The foundation subject that we will focus on this week is art. By the end of the week, you will have created a fantastic picture of the animal, which your character will live upon, in your English story. For today, I would like you to watch the film below, called Austin's Butterfly. Throughout the week, we will complete the same process as Austin. This will challenge your perseverance, but I know that by Friday, you will be so proud to compare your drawings, and it will be well worth your determination. Today, use books and/or the internet to help you find a picture of the animal which you will draw. Try to save or print this picture so that you can use it throughout the week.
https://www.youtube.com/watch?v=hqh1MRWZjms
I am excited to work with you this week, completing the tasks I have set. Have fun.
Mrs Taylor