Happy Wednesday, Discoverers,
Today, in English, you are going to begin to write your story.
If you aim to write the beginning today that would be great ?
Send me pictures of your writing so far, I can't wait to read all of your unique stories!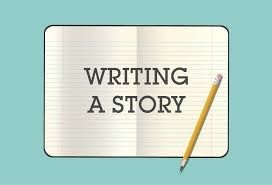 Today in maths, I have some problems for your to solve.
For the first question, Jack thinks that if he rotates his triangle, he will be able to find more than one line of symmetry. Do you agree with him?
Looking at the second question, does a four sided shape always, sometimes or never have four lines of symmetry? Think about the quadrilaterals that you learned about last week to help you.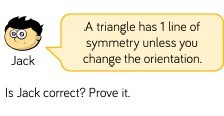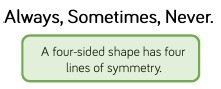 Yesterday, in science, you choose a nocturnal animal, and drew it.
Today, I would like you to do some research.
Try to research as much as you can about your chosen animal.
You might like to answer these questions: Where about in the world does it live? What is its habitat? What does it eat? How is it different to other animals? Are there any interesting facts that you have learned?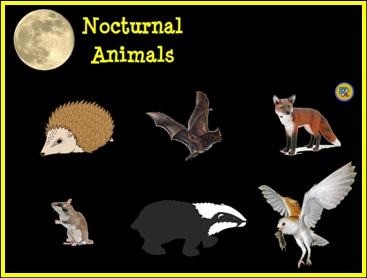 Have a great day everybody,
Mrs Taylor